Live Broadcast over the Internet.
Live coverage of your wedding over the internet.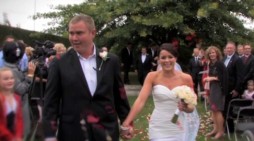 zoom
Do you have family and friends that are not able to make it to your wedding?
We have a great solution for you!
Broadcast your wedding live over the internet! Anyone with an internet connection can be a part of your wedding anytime, anywhere. This is easily setup us as part of your wedding videography or photography.
How does it work?
Before your wedding we will send you a secure link to your own personal web page and video. You can email this link to all the people that are unable to attend…. and that's it, its that easy! Loved ones from anywhere around the world can watch your wedding live as it happens.
An unedited version is also saved on your web page so that you can go back and watch it at anytime on any computer.
Please contact us for a quote or consultation.